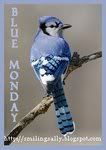 Thinking of Smiling Sally and hoping she is back for
Blue Monday
... really really soon! We miss you Sally!!
Even if Sally isn't quite up to it yet... I'm posting
Blue Monday
every week until she gets back...
Hurry Back Sally!!
Please stop by Sally's blog and leave your thoughts and prayers..
a
n
d post something Blue for Monday as a little warm thought for Sally's return to health..
UPDATE! SALLY'S GRANDDAUGHTER, ARA, HAS POSTED A BLUE MONDAY FOR SALLY AND AN UPDATE ON HER CONDITION! STOP BY AND LEAVE A FEW GOOD WISHES!
I was so excited when I found this pretty Blue HERS pillowcase... but there was no HIS, so my interest wained and I didn't buy it... will I go back?...
In the Curious Boys booth I found these chippy
Blue
letters... spelling S E A R S - but there's not a D in site... so I left the letters there...
There were lots of old
Blue
Ball canning jars scattered here and there... but boy were they pricey! $15 to $29... a little expensive for my tastes... so I passed them by...
This group of
Blue
canning jars... purchased as a lot would have been.... $112... yikes! Yep, they're all still there!
Then there were this beautiful set of mixing bowls... the smallest a beautiful shade of
Blue
... but I didn't need any bowls...
So... what did I buy... guess you're going to have to come back later this week to see... cause it was nothin'
Blue
down here in

French Lique

...